Humans are amphibians - half spirit and half animal

www.peta.org , 30/4/2008

Scientists around the world are researching or seeking the funds to research ways to produce meat in the laboratory-without killing any animals. In vitro meat production would use animal stem cells that would be placed in a medium to grow and reproduce. The result would mimic flesh and could be cooked and eaten. Some promising steps have been made toward this technology, but we're still several years away from having in vitro meat be available to the general public.
PETA is now stepping in and offering a $1 million reward to the first scientist to produce and bring to market in vitro meat...


www.peta.org , 2/4/2008

After hearing from supporters in Russia who have seen Gucci boots made from seal fur for sale in that country, PETA is urging the Italian fashion house to banish all fur from its collections. By selling seal fur, Gucci is responsible for the horrors of the Canadian seal hunt that have repeatedly been documented on video . Despite a public outcry across the globe, hunters in Canada massacre hundreds of thousands of seals every year in order to sell their skins and rake in profits. Sealers bludgeon seals with clubs and "hakapiks" (clubs with a metal hook on the end), drag conscious seals across ice floes with boat hooks, and toss dead and dying animals into heaps, leaving their carcasses to rot because there is no market for their meat...
12 february 2008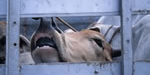 A global campaign backed by the world's leading animal charities is calling for an end to the long distance transport of live animals for slaughter. The Handle with Care coalition has today released shocking new undercover film footage of the global traffic in live animals and is calling on governments worldwide to bring an end to this trade...



During an October 2007 undercover investigation inside a South American slaughterhouse, PETA's investigators discovered that shocking abuse was taking place during the kosher slaughter of cattle. The slaughterhouse is located in Uruguay, a leading exporter of kosher meat to both the United States and Israel.
The abuse was especially horrific because the "shackling and hoisting" method of inversion was used, which causes cattle severe pain and fear. The following is just some of the cruelty that was documented inside the slaughterhouse ...


I am an Animal : The story of Ingrid Newkirk and PETA. Premieres on HBO at 8p.m. on November 19
She's tough. She's fearless. She's driven. She's a brilliant strategist. She's perhaps the most famous animal rights activist in the world. Get a glimpse inside the daily life of PETA President Ingrid Newkirk-from the moment she wakes up, well before dawn, until the end of a long day spent fighting for the rights of animals.
Meet the woman who founded PETA. See what makes her tick, see how far she is willing to go to help animals, hear what her detractors say-some who fear any threat to their bottom line and others who are envious of her success-and meet some of the animals who have benefited from her tireless work.
I Am an Animal will give you a taste of why PETA is the most successful animal rights organization in the world and offer an inside look at one woman's lifelong quest to make the world a better place for all animals.
I Am an Animal: The Story of Ingrid Newkirk and PETA will premiere on HBO at 8 p.m. on November 19 and will air on HBO On Demand thereafter. If you live in Canada , you can watch the film on The Movie Network on November 21 at 9 p.m. Check your local listings for additional air times.


Scenes of Horror at Turkey Farm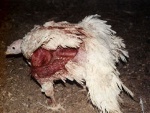 As shoppers prepare to fill their larders with seasonal fare, Animal Aid visited a randomly selected turkey farm: Torbay Turkeys in Devon . The scenes we witnessed and filmed were deeply disturbing. A large barn, divided into six areas, held hundreds of birds, destined to be the centrepiece at many a festive Christmas meal. Many of the birds were covered in muck and feather-pecked, and suffering from deformed feet and legs. Some were so ill that they were unable to raise themselves from the filthy floor...


Holiday Horror Exposed on North Carolina Pig Farm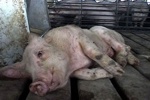 'Tis the season to be frightened-if you're a pig. PETA's new investigation inside a Smithfield Foods supplier uncovered shocking abuse, even to mother pigs and piglets. Watch the video that serves as a reminder of why everyone should leave pork off their fork this holiday season.

September 2007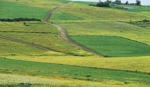 Organic Week 2007, the UK nationwide celebration of organic food and drink, takes place next September under the name of 'Organic Fortnight.'
This national celebration aims to encourage more people to try organic food, with emphasis on UK organic products and to raise awareness about the positive health benefits of organic food and farming.
Celebration of the Organic Fortnight 2007 will involve hundreds of events across the country, from free tasting to organic farmers' markets.
Whether you are in the UK or not, Organic Fortnight is your opportunity to learn more about the positive benefits of organic food and farming for animal welfare.
View further details on Organic Fortnight >>
Pennsylvania markets start to improve

Animals' Angels USA has had an encouraging start to this New Year. As our presence has continued to grow and spread throughout the United States , we have concentrated our efforts to finalize our goals in the Commonwealth of Pennsylvania . In New Holland, written animal handling guidelines are being drafted and finalized in a joint effort between the auction owner and Animals' Angels USA. Once in place, the auction at New Holland will implement these guidelines and will require all of their employees to adhere to them...



Become now a collaborator in the creation of World Bank for the Animals.
The most human bank in the world!